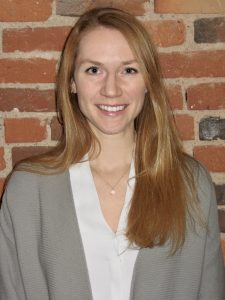 Halley Fisher joined Cascadia Cross-Border law full-time after receiving her Juris Doctor degree from Northeastern University School of Law in May 2019, graduating with honors. Halley is a member of the Washington State Bar Association and her practice focuses on citizenship and immigration matters.
During law school, Halley completed a year-long project creating an asylum manual for pro-bono attorneys practicing in the Sixth circuit. This experience led her to intern with Alaska Institute for Justice, an immigration and environmental law nonprofit that represents survivors of domestic violence and human trafficking in immigration matters. Halley also served as a judicial intern to Magistrate Judge John M. Conroy at the U.S. District Court for the District of Vermont, and in the Human Trafficking Division of the Massachusetts Office of the Attorney General in its Summer Legal Internship Program.
At NUSL, Halley was a member of the Human Rights Caucus and received high honors in various subjects including Torts, Civil Procedure, Immigration, Trial Practice, and Evidence. She served as a Teaching Assistant for Evidence and Trial Practice, and a Research Assistant for a keynote presentation at an immigration conference in South America. Halley participated in two clinics during law school: Northeastern University's Domestic Violence Clinic and the Immigrant Justice Clinic. In her final year of law school, Halley completed an internship with the great team here at Cascadia Cross-Border Law.
Halley is originally from the east coast, growing up in Richmond, Vermont. She lived and learned in Boston for eight years before moving to Washington to join Cascadia. She holds a Bachelor's Degree in English Literature from Northeastern University, where she enjoyed playing lacrosse (go huskies!), volunteering with America SCORES, and participating in Northeastern's unique co-op program. Halley is an avid runner and all-around lover of the outdoors. In her free time, she enjoys yoga, hiking, skiing, and spending time with friends and family.